A few months ago, Frank and I were coerced. . I mean, invited, to attend our youth's Winter Rush trip.=) This is a trip the middle schoolers and high schoolers take ever year around the Martin Luther King, Jr. holiday. The word around church was that it was a very enjoyable weekend. So Frank and I said, "Sure, we'll go!".
But what they didn't tell us was. . .
There would be no warm, sunny beach days (only cold 30 degree weather for us!).
There would be hungry teenagers in our midst who expected to have dinner!!!
There would be no 8 hours of sleep per night.
There would be a great chance for hearing loss.
There would be beach dashes at midnight!!!
But what we discovered was. . .
Hungry teenagers are wonderful helpers after the meal is over (Yes, the kids - well, at least the girls in my room - helped clean up afterwards.).
8 hours of sleep is overrated when it's compared to spending time talking, laughing and growing in the Lord.
Losing one's hearing isn't so bad when it's to the sweet, rockin' music of praising Jesus!=)
Beach dashes are crazy no matter the time of night - especially when the temperature is 30 degress outside and you know the ocean water isn't much warmer!!! (Sorry, girls, I just don't see the fun in this one!)=)
These are just some of the things we discovered on our time this past weekend to Myrtle Beach, SC. There are many, many more things in which I could talk about. Such as the day I found out we had a rock star in our midst (see picture below). Or the evening we had a boat making contest (again, see pictures below). Or the night that 2 teenagers made the awesome decision of accepting Jesus Christ as their Savior. There are also many things I won't ever be able to put into words. Like how much fun it is to hang out and spend time with teenagers (yes, you read that right). Or how much I learned (I know Frank can say the same) about unity and following Christ as one body. Or how much growing I have yet to do (I mean, I knew there was some, I just wasn't aware there was SO much!).
This past weekend was a great trip, not only for the teenagers, but also for Frank and I.
Not a single one of us is perfect, but thank goodness we serve a God who is and who understands us (every part). I am thankful to the One who doesn't allow us to stay stagnate and whose mercy and grace is unending. Blessed be His name.
"I, therefore, the prisoner of the Lord,
beseech you to walk worthy of the calling with which you were called, with all
lowliness and gentleness, with longsuffering, bearing with one another in love,
endeavoring to keep the unity of the Spirit in the bond of peace. There is
one body and one Spirit, just as you were called in one hope of your calling;
one Lord, one faith, one baptism; one God and Father of all, who is above all,
and through all, and in you all."
(These were our core verses for the weekend and the ones on which our theme was based.)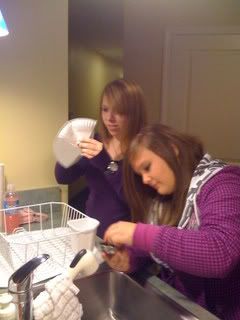 First attempts at Boat Making