One of the things I love most about being married is learning about, celebrating and appreciating the traditions, heritage, and culture that my husband brings into our lives. February 14th was not only Valentine's Day this year, but it was also Chinese New Year. So we bundled up Reese and drove down to Frank's family's house to celebrate. His mom made a wonderful, yummy dinner and then each of us were given our own bowl of dumplings. Inside some of these dumplings were dimes. What is the purpose of these dimes you ask? Well, according to Chinese tradition, whoever gets the most dimes is supposed to have the most luck in the upcoming year. Yeah, I got zero dimes. I guess it's a good thing I don't believe in luck or superstition. Guess who got the most dimes? Frank and Jake. :) It's always a fun time, though, and I love being a part of this tradition and cultural celebration!! Below are a few pictures from Chinese New Year along with pictures from Valentine's Day. Oh and some random shots from when one of our good friends came over to play video games with us. I had just purchased the game Just Dance for the Wii and was anxious to try it out. Both he and Frank were good sports. Since then we've challenged this friend again (he beat me twice this first time - you know there had to be a rematch!) plus his brother and his brother's fiancee. :) This game is FUN!! :)
An incident occurred this past week that really got me to thinking about the blessings in my life and how thankful I am for my family. I love my family. Truly, wholeheartedly and without reservation. The Lord has blessed us - without question. It also got me to thinking about how I view God's goodness. Is He good just when things are going my way or is He good even when I don't understand what He's doing? Now, I'm not saying that it's easy to believe in God's goodness in the midst of heartache, loss, trial, etc. It's extremely hard - but I've come to realize that either I believe He's good or I don't. He can't be either/or. He's one or the other. And since I believe what Scripture tells me, then He must be good. All the time. Even when things are crumbling underneath me and I can't see a way out. Thankfully, my circumstances do not determine God's goodness. Crappy things happen. This was seen in what happened in one of my Facebook friends' lives this week. They lost someone very precious to them. Someonethat I could never imagine losing. Is it fair? Of course not. Is it easy? No way. But are they continuing to trust in God's goodness through all of this? Yes. And I hope and pray that when something/someone precious to me is gone that I will respond in likewise fashion. God is good - all of the time. This once again brings me back to thanking God for His gifts in my life. Not just my daughter and husband, but also my parents, my husband's parents, my siblings, their families and our friends. We are truly, truly blessed.
Okay, so I know I kinda rambled there for a little bit and I thank you for allowing me to do so. :)
I have been enjoying these last couple of months and being home with our daughter. Tomorrow, sadly, I must return to work. I am thankful for my job and for the way God has provided for our daughter to be watched by my sister and a friend. However, I am still sad to be leaving her. I have enjoyed our time together and am not looking forward to leaving her. Please join with us in prayer that it would work out for me to be able to stay at home with Reese once this school year is complete. Thank you! :)
Before I end this post, I just wanted to give a real quick update on our adoption process. I realized recently that I hadn't mentioned it in a while so here goes. :) We were able to get our home study updated and have everything current again. Unfortunately, we have been put on hold due to Reese's birth. So until she turns 1, our profile will no longer be shown to the birth moms. That's okay with us, though. We would not mind a 2 year age gap between our children. We did receive encouraging news from our contact in CT, though, that before we had been put on hold our profile had actually been considered twice. We were glad to hear that!! Our contact said that this is normal and that it is very encouraging since most couples from 2006 have not been considered at all and are still waiting for that to happen. So we will continue along and come December we will once again become active on the list. :) That's it for now. :)
Please enjoy these last few pictures celebrating Reese's 2 month birthday! :) Until next time!!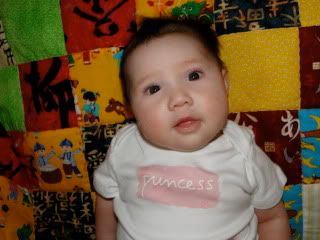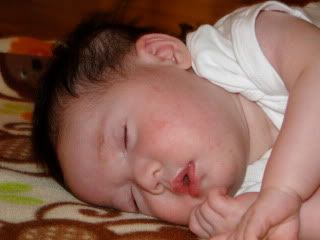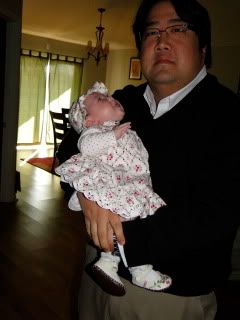 First time going to church!